Get the NDIS Support Coordination Services You Need
Finding and coordinating the support services you need to live a good life can be tough. Our team of friendly and experienced NDIS Support Coordinators in Perth and Peel are here to help. Together with your Support Coordinator, you explore how to best use your National Disability Insurance Scheme (NDIS) funding to maximise the benefits of your plan and get to where you want to be, faster.
I give advice to the people we support on how to make the most of their NDIS funds. It is important to build your capacity to exercise choice and control and support you in navigating the NDIS marketplace. – Marvin Phiri, Support Coordinator at Interchange

---
What is NDIS Support Coordination?
Support Coordination assists you to build the skills you need to understand, implement and use your NDIS plan. A Support Coordinator works with you to ensure a mix of supports are used to increase your capacity to maintain relationships, manage service delivery tasks, live more independently and be included in your community.
Support Coordination helps you to:
Understand your NDIS plan;
Find out what supports are included
in your plan.
Find the right service providers for you.
Keep your NDIS plan on track.
Find out more about NDIS Support Coordination in this Easy Read Document 'Starting my plan with a Support Coordinator'
---
Support Coordination @ Interchange
Interchange has a team of experienced Support Coordinators who will be working with you to develop an individualised management plan that addresses your personal needs and wants – especially if you have specialist support needs. Did you know we also offer individualised NDIS Plan Management?.
Achieving your Goals – Your Support Coordinator will be listening to you and what you want out of life. Together you will be working on your own personal plan to achieve the goals you have set for yourself.
Your life. Your choices. Your way. – The focus of our support coordination role is to empower you to live a good life – a life you choose. We want to remove barriers and increase your choices and skills so you feel confident to manage your supports on your own if you want to.
Helping you out – Your Support Coordinator will also be there when things get difficult. They will assist you in resolving
problems or issues with your services and support you to get things back on track.
Your Support Coordinators can help you in many ways, depending on your preferences and choices, together you can:
Choose and plan your own supports.
Connect with the right providers who
understand you.
Review and negotiate service agreements.
Prepare for your NDIS plan review.
Explore housing needs and living options.
Organise practical support such as shopping,
social support and transport.
Connect with your local community.
Help you to manage supports on your own
and become more independent.
Manage service delivery tasks.
Help you work through any problems
Interchange Support Coordination Brochure
---
Stories of Interchange – Meet Hayden
I like to write because I want other people to be able to read my stories. I want to share my stories; it feels good to know people read and enjoy them.
Hayden's imagination is awe-inspiring. At 26, he is a successfully published author and has just released the third novel in his series of Dragon Paladin fantasy books. Hayden started writing ten years ago to escape his life and bring his imagination to life. He was struggling, battling depression, being bullied at school and feeling alone. Writing made him feel happy in his lonely moments. He was able to explore his creativity and writing the stories down helped him to relax.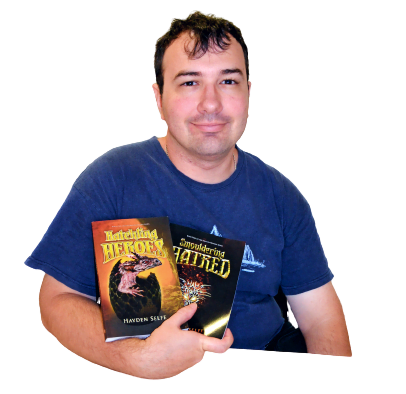 When Hayden joined the Interchange community in November 2019, he was socially isolated and wanted to find ways to connect to new friends and community activities. Working in a library seemed like a good way to share his passion for writing and books. His Support Coordinators helped him to make this dream a reality. They have encouraged him with his studies and helped him get assistance at TAFE. Hayden has completed his Certificate III in Library and Information Services and is well on the way to finishing his Certificate IV next year.
In his spare time, Hayden is getting out into his community and making friends with similar interests. He has big plans for his future, with lots of books to be written to complete his fantasy series. His books (Hatchling Heroes, Smouldering Hatred, and The Hidden Paths: The Journey of Cary, Darren and Alavare) are now available as e-books.
---
There are many ways that our Support Coordination services can work for you. Contact Us and let our Support Coordinators assist you in making the most of your NDIS funds. If you are interested in our services please fill out our Customer Form, send it to hello@interchangewa.org.au and we will be in touch shortly.