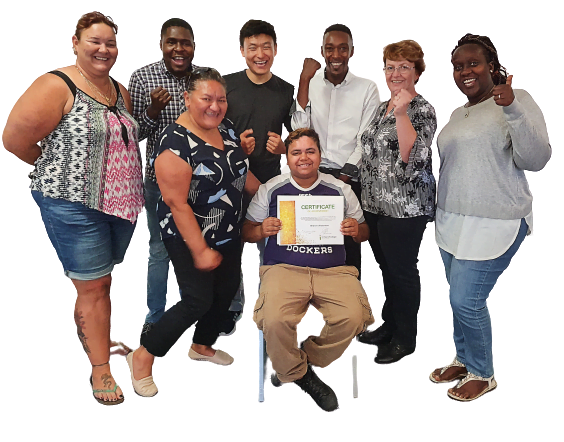 I was happy when I got out of prison – it was a horrible place but when I was out, I was really scared. Everything was new to me and I heard voices in my head. They kept telling me the police would come and get me and put me back into prison." – Sharon
Meet Sharon
Sharon is a young Aboriginal woman in her mid 20's, who grew up with her grandmother in Northam. Sharon had a troubled youth and was incarcerated in 2017 for two years. On release, Interchange were asked to support Sharon to move into a safe home with a 24/7support team.
At first, Sharon had difficulties coping, which led to challenging behaviour. Anxious and hearing voices, she struggled to trust anyone. Bad experiences with a previous service provider made the situation worse, and Sharon constantly called the police looking for reassurance that she would be safe.
Sharon suffered real trauma from another service provider, before going to prison. So, for us as a team it was very important to build a relationship of trust first. We just kept telling her that we will be there for her every step of the way, we will listen and not let her down."  – Crispus, Support Worker, Interchange WA
Slowly a relationship of trust and understanding developed and things started to turn around. Sharon was able to open up about how overwhelmed and scared she felt without the routine of the prison system, or support of her family. In response, her team were able to help her build necessary life skills and nurture independence.
Since Sharon had never lived by herself before and didn't really know how to take care of herself it was important to introduce her to daily life skills to further her independence and confidence. She is now responsible for her own budgeting, shopping, cooking and maintaining her home with little guidance from us." – Crispus, Support Worker, Interchange WA
When first released, Sharon was housebound, but with the encouragement of her team, she started to visit Kings Park where she feels a strong connection to her Aboriginal heritage. Since then, Sharon has also discovered she has a talent for painting. Combining these new-found passions, she now enjoys working on her incredible artworks surrounded by native flora and cultural significance.
My biggest goal in life is to stay good and be happy. I never want to go back to prison and hope the team will help me to be and stay good. I also want to continue doing my art. I never knew I was good at anything but I am really good in drawing."  – Sharon, Customer Interchange WA – 24/7 Support
Reconnecting with herself and the land has been a wonderful part of Sharon's journey, but reconnecting with her family was another goal that Sharon wanted to achieve in order to heal old wounds. Supported by her team, Sharon is now in regular contact with her mum and brother who both live over east, her Aunty who takes her to footy matches, and her grandmother, Cellia, whom she phones daily and visits once a fortnight. With the help of her team, Sharon's next goal is to attend an annual catch up in the bush for a whole week.
Recently, Sharon initiated a gathering, inviting her family, her Interchange support team and the Executive Managers to thank everyone for being part of her journey. She also presented a video she had made, which shows her out and about in the community, enjoying her life (something that wouldn't have been possible a year ago). In return, the Interchange team awarded Sharon with a Certificate of Achievement for all her hard work and determination. Everyone was incredibly touched to see how Sharon's life has turned around.
Sharon struggled all her life. She used to self-harm and be very violent. Now she is just a different person. The team had such a huge impact. She needed someone to help her, work together and direct her in the right way. We are so grateful for everything that the team has done for her. Thank you for not giving up on her, being there every step of the way and changing my granddaughter's life." – Cellia, Sharon's Grandmother
People with disabilities are over-represented in prisons worldwide. In Australia, approximately 10 percent of soon-to-be-released prisoners have an intellectual disability. They face a range of challenges upon their release from prison due to their own needs and the complexity of the service delivery system. Many people experience homelessness, unemployment and social isolation after their incarceration, which leads to elevated rates of re-offending. The need for targeted support during their transition from prison to improve life-quality is vital. That's why we are incredibly glad to be a part of Sharon's extraordinary journey and so is Sharon!
I just want to thank my team for everything they have done. They take me seriously and listen to me and what I want. They've helped me change myself and my life. I couldn't have done it without them.'  – Sharon Anderson, Customer Interchange WA
---
HESTA Awards
HESTA Awards just revealed Australia's top organisations and teams working in disability, allied health, aged care and community services and we are delighted to announce that Sharon's Support Team are amongst the winners of the prestigious award.
Winning in the category TEAM EXCELLENCE – DISABILITY SERVICES, Sharon's team is recognised for their significant contribution to people living with disability, including providing support to start a new life at home and in the community after incarceration.
We can't provide quality services to our customers without the dedication, commitment, and hard work of all our Interchangers. We know and appreciate the incredible work everyone is doing to achieve our mission of helping people with disability to live a good life. Sharon's story is incredible – how she has gained confidence in herself, is living in her own home and continues with her personal growth, this is thanks to the amazing support of her team Ronel, Rodgers, Karma, Elizabeth, Natasha and Cris.
We congratulate Sharon and the team and are incredibly proud of their outstanding achievements and the positive and lasting impact the team had on Sharon's life.
The team has been rewarded with $7500, generously donated by HESTA Awards sponsor ME, which will be invested in further training for our Individual Living Support Teams.
For further information, or to watch a recording of the 2020 awards ceremony, visit hestaawards.com.au
---
Find out how we can support you with daily living skills, individual living options, community participation or developing capacity.