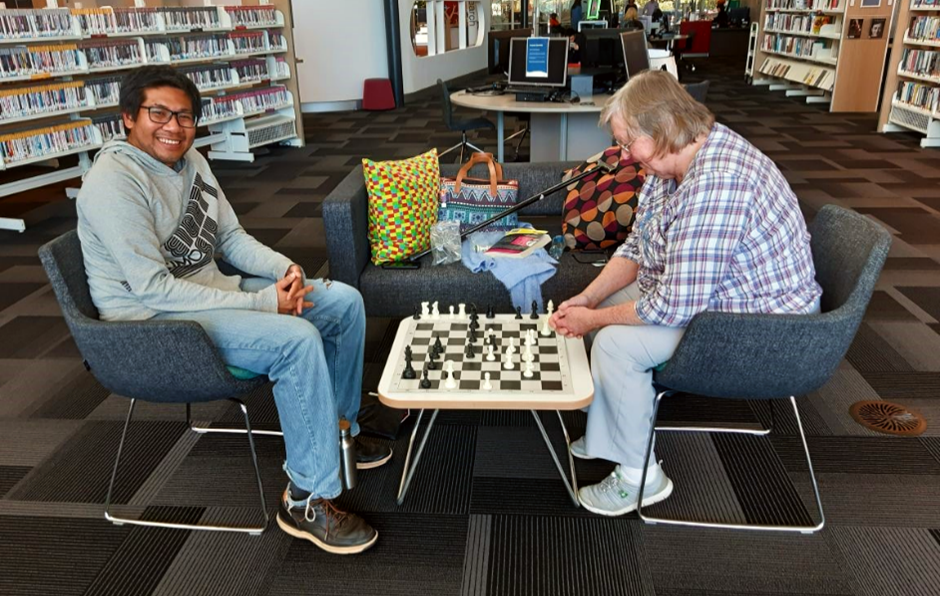 I am Schizophrenic. And so am I.
My Name is Frances, I am 67 years old, and I am schizophrenic. Distressing thoughts, erratic behaviour and medication are part of my day-to-day life.
I have been struggling with mental health and schizophrenia since I was 12 years old. My husband of 30 years supported me in every way he could. And I supported him through his cancer and sat right beside him when he went without food and water for days before he took his last breath in July 2011.
After my husband died my life took a turn for the worse. My thoughts were running wild "I can't leave the house, everyone is laughing at me, I'm scared and anxious and can't mix with people". I went down a very dark path and had four attempted suicides over the years, one putting me in a 'Locked Ward'.
I lost a complete sense of self when my husband passed. He had left me with a roof over my head and I was very grateful to him for that, however, once he died, I locked myself away in the unit, pulling the curtains closed and barely seeing anyone. I had lost all confidence in myself, and my mental illness took complete control over me and my life. What followed were 8 years of loneliness, 8 years of closed curtains, 8 years of agony and pain. Today my curtains are open, I am leaving home with a spring in my step to be an active member of my local community and enjoy life to the fullest. This is my story. This is my journey to recovery. This is my life.
My support journey started on my 65 birthday when I was contacted by the NDIS suggesting that I would be eligible to become a participant. After spending 8 long years locked away in my own apartment, I was ready to change my life and agreed. What a great birthday present. Shortly after I joined Interchange and never looked back.
After years of isolation there were two things that were on the forefront of my mind, two goals that I was keen on achieving – living a happier and healthier life and becoming part of my local community. In the Spring of 2019, I was introduced to Gail who works as a Support Worker for Interchange. I had always wanted to learn to cook and Gail, a passionate cook herself, was keen to teach me. I had spent years locked away in my unit, not letting anyone in, so having Gail was at first very daunting for me. But after some time, I started to get used to her and Gail had the patience of a saint. Communicating with me, making me proud of my achievements, and being a person who I could finally relate to. She was never pushy and gave me time to adjust. She gradually started to talk with me on her visits, and over time we build a relationship of understanding and trust.
Gail also helped me to set up a computer course within the safety of my own home. She then suggested to use my newly learned computer skills to write up my favourite recipes so I could try them on my own when she was not around – and I did! My cooking has hugely improved, and I have now gone from being too scared to use an oven to having a huge list of recipes in my repertoire. I got so confident with my cooking that I was able to put on a roast for my younger sister and her partner. Another time I invited my nieces over with their partners to share a morning tea with homemade cakes and scones. I now love cooking for my friends and family, and they love my newfound confidence as well as yummy treats. Also, I am opening up my home to other people to entertain and socialise which I had not done in years or didn't even think was possible anymore.
I was able to discuss my success with Gail, who always had an ear for me, acknowledged my achievements and inspired me to keep going. We slowly started talking about all the other things I wanted to do in my life.
One thing I had always wanted to learn was chess. Said and done – Together we looked up a local chess tutor and found a wonderful man called Albert. He is somewhat of an expert on chess and has played since the age of two. He always says, "It's only a game Frances, but you must strive to have fun". I have been learning chess for a while now and know all the pieces by name, and the various moves they are permitted to make and although I call the Rook the Castle, I feel like I truly belong.
I then joined a proper chess club at the South Perth Library. Gail accompanies me every week. We browse the library for some great new reads, and I get to play chess – wonderful! I met many other Chess players, and gradually, with Gails support, I started to come out of my shell and made many new friends.
And then things just started to happen. We went to hydrotherapy (where once was enough because I nearly drowned myself trying), computing, cooking, going to appointments, the library, the movies, and I even told Gail that I would like to go out for lunch occasionally. I also tried bingo to keep my brain active. Once again Gail was with me, so I felt more confident. I missed a few numbers until I picked up the game, I did not win anything, but it is a wonderful opportunity to do something different, get out of the flat, and be a part of your local community.
I have to admit that I did not believe for one second that the NDIS and Interchange could get through to me and do anything to get me to open the curtains, let someone into my flat to cook and talk, go to bingo and learn chess, but I was completely wrong. I am now comfortably leaving the safety of my home and actively seek fun things to do out in the community.
Don't get me wrong – I am still schizophrenic and I still worry and have erratic thoughts, but I came to realise that people do not think anything about me to distress me and it might just be my own thinking. YES, maybe it is my thinking, and from that moment of realisation and acceptance, a great weight was lifted from my shoulders. I found peace and planned to enjoy life to the fullest from that moment on. And so I am – My curtains are finally open!
---
If you are interested in our services please fill out our Customer Form, send it to hello@interchangewa.org.au and we will be in touch shortly.