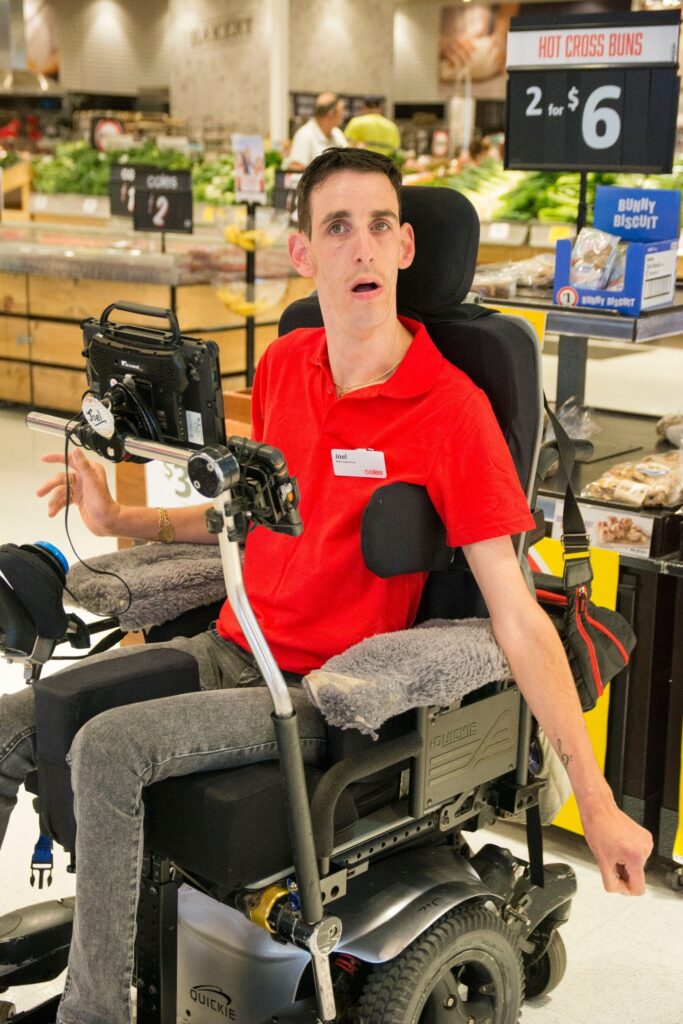 32 years ago, we were just a normal happy couple looking forward to the birth of our first child. When Joel finally arrived, we were so excited and our life was perfect. Little did we know at the time, that our world was about to change forever. At 8-month-old our beautiful baby boy was diagnosed with Cerebral Palsy – a neurological condition caused by brain damage which results in various disabilities. From movement and walking disabilities to nonverbal and speech difficulties, cognitive impairments, spinal deformities, and the list goes on.
We realised early on that we needed to learn new skills to support Joel through his formative years, giving him the best start possible. We were up for the challenge and pulled out all the stops for our beloved Joel. We decided to move from Geraldton to Bibra Lake, so he could attend a special education school and Joel continued to graduate high school – We were very proud!
After graduating it was time for the next chapter in Joel's life – his adult life. We began to look into different disability service providers with the goal to take Joel's growth to the next level. Unfortunately, we were not very successful at first and went through multiple providers who just did not get Joel and his need for freedom of choice. I recall vividly the day we met the Interchange Team and the hopes and dreams we had for our son upon leaving the first meeting. It was like a breath of fresh air, and when Joel immediately took to the Support Worker from Interchange, we were over the moon and have never looked back! This was 13 years ago.
Joel continued his journey by moving out of home into his very own apartment, requiring support from his team around the clock. Living independently was very important for Joel and us. He did not want to miss out on his independence and we did not want to hold him back. We had many people, even other disability support providers, asking us why we would "let him" move out or did not at least "send him to a group home".
The answer is – Joel is an adult. He can make his own choices and decisions and he wanted to have his own place, not a group home, his own place to call home.
And to be fair most young adults do not want to live with their parents anymore at some point. Interchange were the first providers, who actually got it and instead of convincing us to go down another route because it was not manageable or to difficult, they actually went straight to work.
Of course, we were nervous about Joel living in his own apartment at first. We knew he needed support 24 hours per day, 7 days a week – his life depended on it. He needed to be fed, washed, dressed, helped with household duties, administered medication, taken to appointments, the gym or whatever else he felt like doing out in the community. Again, the list was long and Interchange understood, that even though Joel is not able to communicate through spoken words, he is a man who thrives on making his own decisions.
Like I said it was not easy but it was what Joel wanted and so we made it possible. Getting to know his wonderful support staff and seeing them interact with Joel really helped. In fact, we will be going on a holiday for 4 weeks soon and feel completely at ease leaving Joel with his support team, as we know each and every one of them. They are all incredible people and want nothing but the best for our son. They empower Joel to live the life he truly wants. We would not have been able to give him this kind of autonomy and independence. After moving out it actually took Joel 2 years to come to our house for a visit as he was just so happy at his place, living his own life, and wanted us to come there instead.
With the support of his team Joel continues to achieve one goal after the other and keeps surprising everyone of what he truly is capable of.
Two years ago, Joel was open and ready for employment and entered the working world. He proudly holds the position of 'Meet & Greet' at Coles, and absolutely loves having a job, making a valued contribution and earning his own money. His team does not only support him in his day-to-day life, but they also helped our kind, funny, friendly and outgoing Joel to become part of the community, meet new people and build great relationships with people from all walks of life.
Joel is an absolute sports fanatic and loves all kinds of sports. From tennis to bowling, footy, swimming, fishing, and sailing. With the support of his team, he gets to do whatever he feels like. I always tell my friends: "Boating, Camping, Fishing – Our Joel gets to do it all!" He just loves being active and so do his Support Workers, who always follow his lead about where to go and what to do, so there is never a dull moment. They take him out dancing in his wheelchair, listen to live music or visiting concerts, which he also absolutely loves. They also take him bowling down at the local club, where he has won too many bowling tournaments to count and made many great friends over the years. A superfan of the West Coast Eagles, Joel's next goal is to see a game in the stadium and travel up to Geraldton for his cousin's wedding. Knowing Joel and his support team this is probably already in the making.
Joel's achievements, confidence, happiness and life has gone from strength to strength, and we could not be happier with his development and zest for life. His Support Workers always take the time to listen and understand what is important to Joel. They give him a voice and support his choices. Confidence is everything in life, and that is one of the greatest gifts that his support team unlocked within Joel and I will be forever grateful for it. Through their input and support Joel has discovered that there are no barriers anymore, and anything is possible.
We know Joel would not be where he is now without the support of his amazing team, who spend their days and nights with our son, supporting him to live his best life. The whole team is doing an incredible job. Therefore, Joel and I would like to nominate his team for the WA Disability Support Awards for the outstanding work they do. Supporting him within his home, giving him the chance to live as independently as possible, enabling him to exercise choice and control over his own life, supporting him out in the community and in having a thriving social life.
We would like to thank the team for the dedication and passion they bring to their work, the smiles they share with Joel, the successes they celebrate together, the possibilities they are creating together and the happiness Joel gets to experience living his own life and enjoying every minute of it. Thank you will never be enough.
by Gina Rykos / Joel's Mother
---
If you are interested in our services please fill out our Customer Form, send it to hello@interchangewa.org.au and we will be in touch shortly.