Join Us – Job Opportunities at Interchange WA
Do you want to make a difference? Join us in our mission to support people with disability to live a good life!
Interchange is a registered NDIS provider supporting Western Australians living with disability to achieve their goals and live a good life – a life they choose! For 30 years we have been putting people at the centre of everything we do. Through individualised, local, community-based support we remove barriers, increase life choices, and empower people to have meaningful relationships and connections.
Our belief is we all belong. We are all peas from the same pod. Everyone Belongs.
Our organisation's culture is deeply influenced and shaped by our values – respect, belonging, empowerment and individuality. Our awesome staff bring passion and commitment to their vital roles and bring our values, vision and mission to life.
But enough about us! What about you?
If you connect with our Values, have a great personality and want to work for an organisation making a difference, then we want to hear from you.
---
Employee Experience (HR) Advisor
Our Employee Experience Team supports our people who support the community. They ensure we have the right people, capability and processes for our customers we empower.  As we have grown so quickly, we have not had the chance to shape all of that, which is why we are in need of some experts! Interested? Find out MORE
---
Recovery Support Worker – Individualised Living options
We are expanding our independent living services and require experienced staff to work during the day, evenings, nights, and weekends. Building three new support teams across three new customers we have multiple opportunities ranging from full time, part time and casual. Interested? Find out MORE
---
Lead Support Worker – Mental Health
Interchange is seeking a dedicated and experienced Lead Support Worker to provide leadership and mentoring for other Support Workers, working in mini teams who support our complex customers. This role will be providing direct support to people to help achieve their goals. Supporting and supervising teams to develop and maintain quality services, liaising with families and key stakeholders as required. Interested? Find out MORE
Find all our current vacancies on our Job Portal 
---
Host Arrangements
Share your life – Become a Host
A Host Arrangement is a living arrangement where a host welcomes a person with disability to live in their home and be part of their lives. Through living in a natural environment and sharing their lives with the host, people with disability experience an enhanced sense of connection and belonging in their community.
Becoming a Host can be suitable for you if you are single, a couple, or a family. You may offer your home for occasional stays or as a full-time residence. Each Host Arrangement is unique according to the persons and hosts circumstances.
Are you interested in becoming a host? Simply download the Host Agreement Information Sheet and Contact Us if you have any further questions. For more information please read the stories below.
Living in a Host Arrangement – Meet Natasha
Living in a Host Arrangement – Meet Eleisha & Dalton
---
Welcome to Interchange
For almost 30 years, Interchange has supported West Australians with disability to achieve their goals through individualised, local community-based support that sows the seeds for a fulfilling life.
As a registered NDIS provider, our take on providing support comes from our belief that Everyone Belongs. We are all peas from the same pod! Our passion is to help the people we support grow and flourish in their home and community. That's why we are following an individualised approach where we put people at the centre of everything we do.
Our "Neighbourhoods" are founded on real connections and meaningful relationships within the community and our awesome staff bring passion and commitment to their vital roles.
Since commencing my employment with Interchange 13 years ago, I have had the pleasure of seeing firsthand the contribution that our organisation has made to the lives of the people we support. – Brett Bradley, Community Engager
---
The People of Interchange
We couldn't do the things we do without our dedicated people. Passionate Interchangers are at the heart of our organisation going above and beyond in supporting people to live a good life.
Employee Recognition Program 'iThink You Are Awesome'
The best feedback for our employees is when it comes directly from the people we support and fellow Interchangers. That's why we have an internal and external recognition program. Within our monthly 'iThink You Are Awesome Awards', customers and employees alike can nominate Interchangers for the awesome work they do. In return, we will award the Nominees with a small token of our appreciation. Find out more about the people of Interchange and our iThink You Are Awesome Stars HERE
I want to thank my team for everything they have done. They've helped me change myself and my life." – Sharon, Customer Interchange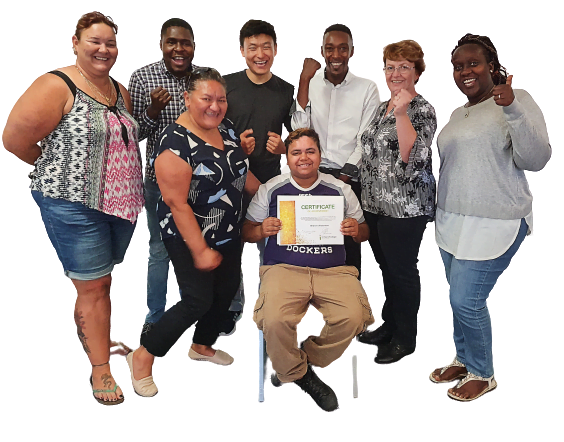 ---
Employee engagement opportunities
Our employees are highly involved in helping us shape our organisation and the way we operate. Interchangers can be part of multiple iThinker groups where they can express their ideas on how to develop our services and provide the best supports possible to our customers. We also have monthly iReflect meetings for all staff where experiences and ideas can be shared with the team and together solutions can be found.
---
Social Gatherings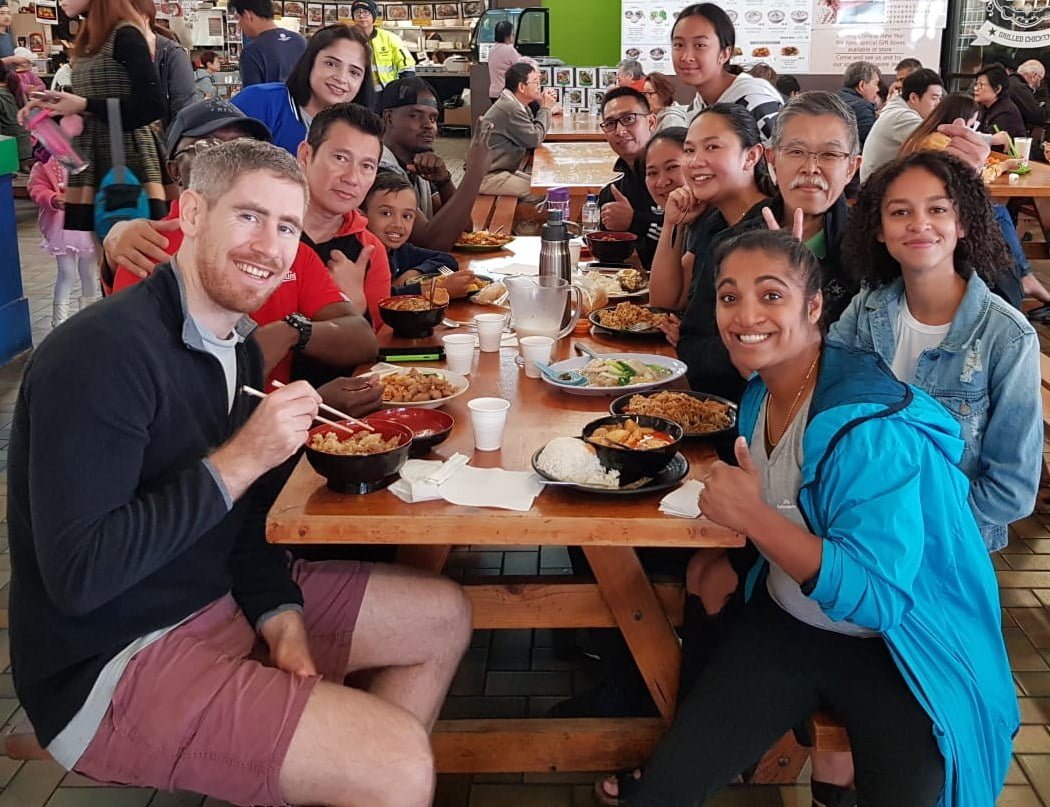 Interchangers go above and beyond to provide quality services to the people we support. So much passion and determination deserve recognition and we encourage our dedicated staff to sometimes just let loose. We create opportunities for people to come together outside of work and just enjoy each other's company. No work talk allowed😉
We also enjoy getting everyone together for our annual iBelong event which is an opportunity to come together, celebrate your successes and connect with fellow Interchangers.
---
The Values of Interchange
When you are led by values, it doesn't cost your business, it makes your business."
Every individual and every organisation is involved in making hundreds of decisions every day. The decisions we make reflect our values and beliefs. Our values inform our thoughts, words and actions, determine priorities and help us to grow and develop. Through values we are creating the future we want to experience.
Individuality, Respect, Empowerment and Belonging – these are the values Interchange as an organisation stands for. Our values are directed towards a specific purpose. Interchange's purpose is to support people with disability to live a good life, foster welcoming communities that value, respect and empower people with disability and ultimately create a world where EVERYONE BELONGS.

---
The Benefits of Interchange
Attractive salary packaging options (up to $15,900 per year tax free) and an additional $2,650 for Meals and Entertainment;
Excellent training and development;
Career and growth opportunities;
A dynamic team environment ready to support you;
Employee referral bonus;
Access to our Employee Assistance Program;
Additional benefits and discounts.
---
Salary Packaging
On top of competitive remuneration and 9.5% Superannuation Interchange offers salary sacrificing tax benefits. Salary packaging allows you to spend part of your pay before tax is calculated. This provides you with the benefit of:
Reducing your taxable income
Paying LESS tax
More Money for you
As a not for profit employee, you choose what benefits you would like to include in your salary packaging such as:
General Living ( mortgage, rent, credit card repayments)
Car – novated lease
Holiday Accommodation
Meals and Entertainment
Depending on your personal situation, employees can benefit from up to $15,900 per year tax-free and an additional $2,650 for meals and entertainment.
To find out more about Salary Packaging visit our Salary Packaging Partner AccessPay
---
Personal Growth and Development
We encourage our employees to learn, grow and develop skills for life. Everyone at Interchange gets the chance to continually improve their skill set, develop their knowledge, and ultimately their career.
Together we develop a high performance, self-organising and discerning team culture and provide positive outcomes for the people who work for us AND the people we support.
 No two days are ever the same. As a support worker, I enjoyed being the bridge between the people we support and the community while also being a role model for people on how to interact with, and treat people living with a disability."
These are the words of Interchanger Renee. Renee joined our organisation 5 years ago as a student and moved from a casual support worker to a variety of project roles, and is now the Community Engager for our Osborne Park and Midland Neighbourhoods. Renee loves her job and find's working in the disability sector and supporting people living with disability extremely rewarding. Find out more about Renee's journey at Interchange HERE
---
iLearn
We are committed to providing the highest standards of support to ensure people we support to live a good life. We, therefore, need you to have the best knowledge possible, so you are well educated, confident and can improve your own skillset while delivering quality support to our customers. That's why we have iLearn – our internal training program, providing contemporary knowledge of disability support and on-going training and development for our employees.
iLearn – Start Learning, Start Growing, Make a difference!
---
Employee Assistance Program
It's ok to sometimes be not ok"
Supporting others is rewarding but can also be challenging at times. There might be situations where you need support too. To help you when you are struggling at work or in your personal life we have an Employee Assistance Program (EAP) to confidentially discuss issues and concerns about family, health, life, money and work.
EAP is fully subsidised by Interchange and can help you and your immediate family members solve a wide range of problems and challenges in your lives, at no cost to you. Plus, the information you share with them is strictly confidential. Find out more about our Employee Assistance Program HERE
If you connect with our Values and you think you are the right fit for us. If you want to work for an organisation making a difference, then we want to hear from YOU.
Find out which positions at Interchange are currently available above.